December 20, 2011
Posted by: Sweet Pea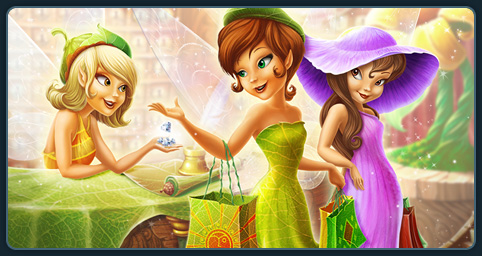 Guess what?! Because you requested it, soon there will be a new way to get things in Pixie Hollow that won't require Membership – It's called Pixie Diamonds! Members will still enjoy all of the same benefits they have now, but starting early next year both Members and free players (with their parent's permission) will also be able to buy Pixie Diamonds with real money.
All players will be able to use the Pixie Diamonds that they've bought to:
Get new clothes and accessories!
Adopt an Animal Friend!
Buy the latest furnishings for your Fairy Home!
All wardrobe and home items and Animal Friends bought with Pixie Diamonds will stay with your Fairy forever*, even if your Membership expires, and will not count toward your storage limit when it's full. And Members, you'll be getting an automatic monthly allowance of Pixie Diamonds included with your Membership when this feature comes out! Pretty sweet, huh?!
I'll give you even more information as it comes in, but for now you can message the Never Council here with any questions you may have about this exciting new feature!
* As long as account is in good standing and for the life of the product.
Happy flapping!